The Phonograph's Birthday Timeline
Edison's phonograph timeline includes other important dates besides December 6, some of which have been cited in various calendars and books as the birthday of the Phonograph.
The following historic markers are dates related to the Phonograph's scientific history, conception, telephonic repeater experiments, tin foil phonograph construction, testing, demonstrations, patents and 100th anniversary first day postal covers.
March 25, 1857 - Édouard-Léon Scott patented his Phonautograph. The phonautograph is the earliest known device for recording sound. At the time it was not the intention of Scott to reproduce sound but rather to study what sound waves looked like.
April 9, 1860 - The first line of Au clair de la lune was recorded by Édouard-Léon Scott on his Phonautograph. These recorded words are "the earliest clearly recognizable record of the human voice yet recovered (though these words were not actually heard until 2008 with the help of computer technology).
April 30, 1877 - Charles Cros submits a sealed envelope containing a letter to the Academy of Sciences in Paris explaining his proposed method for recording and reproducing sound. Although this envelope was not opened until December 3, 1877, Cros should be credited "with anticipating, though barely, what Edison was to accomplish" (12) and describing an invention which he named the Paleophone (voix du passé).
July 17, 1877 - The Speaking Telegraph - Edison Lab Notes (3) reads: "Glorious = Telephone perfected this morning 5 am = articulation perfect -- got 1/4 column newspaper every word. -- had ricketty transmitter at that -- we are making it solid." (Note: The Philadelphia Inquirer for Tuesday, 17 July ,1877, ran an article describing the rehearsal at the Permanent Exhibition).
Phonograph historian Patrick Feaster notes that on this date "Edison and his associates sketched out the principle of phonographic sound" (4).
July 18, 1877 - Edison "announces" his intention to invent the phonograph (5)
The Thomas A. Edison Papers Project describes the July conception of the future Phonograph as follows (6):
In July 1877, while developing his telephone transmitter, Edison conceived the idea of recording and playing back telephone messages. After experimenting with a telephone "diaphragm having an embossing point & held against paraffin paper moving rapidly," he found that the sound "vibrations are indented nicely" and concluded "there's no doubt that I shall be able to store up & reproduce automatically at any future time the human voice perfectly." Edison periodically returned to this idea, and by the end of November, he had developed a basic design.
End of July 1877 - Edison "constructed a paraffin paper device called a telephonic repeater" which in the "course of many experiments thought he could hear the sound of human voices or music when the strip of paper moved quickly beneath the spring-driven point. Inspired, he quickly yelled "Halloo" into the crude mouthpiece, and was completely taken aback when the machine faintly imitated him moments later. (7)
August 12, 1877 - The Library of Congress' website America's Story assigns this as the "date popularly given for Thomas Edison's completion of the model for the first phonograph. (8). See reference 7 (above).
November 29, 1877 - Basic sketch of the Phonograph completed that apparently was the "sketch that his workman, John Kruesi, used to construct the first tin-foil model." (9)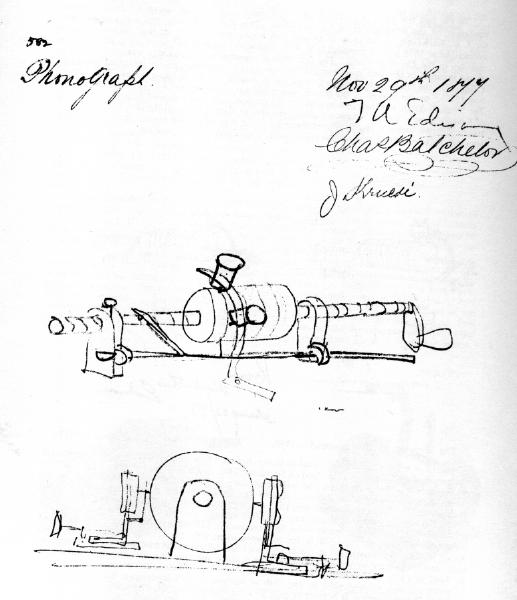 First sketch of the Phonograph - November 29, 1877 (courtesy A. Koenigsberg, Edison Cylinder Records, 1889 - 1912)
December 4, 1877 - "Kruesi made phonograph today." (10)
December 6, 1877 - "Kruesi finished the phonograph." (1)
December 7, 1877 - Phonograph taken to offices of Scientific American for first public demonstration
The Thomas A. Edison Papers Project (11) describes the events of December 6 and 7 as follows:
"When Kruesi finished making the phonograph Edison put on the tin foil and then recorded the nursery rhyme "Mary Had a Little Lamb"; Edison's daughter Marion was at the time nearly five years old and his eldest son was almost two. Edison then "adjusted the reproducer and the machine reproduced it perfectly. I never was so taken back in my life. Everybody was astonished. I was always afraid of things that worked the first time." Similar astonishment occurred the following day when Edison exhibited the new invention at the offices on Scientific American."
December 15, 1877 - Edison's application for Phonograph patent executed
December 22, 1877 - Scientific American publishes story about Edison's Phonograph
December 24, 1877 - Edison patent for Phonograph filed
February 19, 1878 - Patent no. 200,521 granted for Edison's Phonograph
April 18, 1878 - Edison in Washington D.C. to demonstrate his Phonograph to the National Academy of Sciences.