Phonographia - What are Phonographia?
(1) Phonographia are phonograph connections found in popular culture. The three R's of Phonographia are Relate, Reference, and Remind.
Relate makes or illustrates connections with the phonograph.
Reference cites, alludes or mentions the phonograph
Remind documents or jogs a memory connected with the phonograph.
Phonographia examples use one or more of the three R's:
Phonograph related paper memorabilia and ephemera - sourced from advertisements, photographs, and paper media, e.g., newspapers, periodicals, cartoons, postcards, comics, greeting cards, Valentine cards, sheet music, posters, art, etc.
Phonograph related words and phrases - examples such as 'sounds like a broken record,' 'in the groove,' 'record album,' 'B-Side', etc.

Phonograph references in lyrics of recorded music- excerpts from sound recordings that include references to the phonograph and recorded music.

Phonograph related stories can also remind us because many have grown up with recorded sound, have memories of listening to recordings, and understand it as part of daily life.

Phonograph related facts (factolas) are connected with the phonograph and recorded sound and can be identified as stand-alone information.

Phonograph reminders are triggered by seeing a phonograph's morninglory horn, the Grammy Award statue, a phonograph in a movie, a phonograph in a museum, a phonograph in a modern ad, an album cover, etc.

Phonograph references - a simple mention of a phonograph in a particular context. In the book Love and Other Consolation Prizes by Jamie Ford there is a scene that describes a Victrola as being in the finest Seattle dress shop where a character of the story is shopping for a dress. The Victrola is a detail of the room and its time period but is not essential to the story.
For examples of extended connections including six degrees of separation connections with the phonograph see Connections and the Creation of an Industry.
(2) " with earlier "scientific breakthroughs in acoustics of the 19th century" having made it only a matter of time." See Sound Beats "Phonograph history" by Mason Vander Lugt, Syracuse University catalog librarian and proprietor of the historical music blog Dinosaur Discs, for the example of Thomas Young's 1807 description of a 'vibrograph' "used to measure the frequency of a sounding body (read: tuning fork) by etching the vibration of the fork into the surface of a soot-covered cylinder." Additionally, the 1843 design can be seen of Jean-Marie-Constant Duhamel's independently designed "vibroscope," "which moved the cylinder laterally using of a feedscrew, a feature of the first generation of phonographs." - Sound Beat, March 28, 2013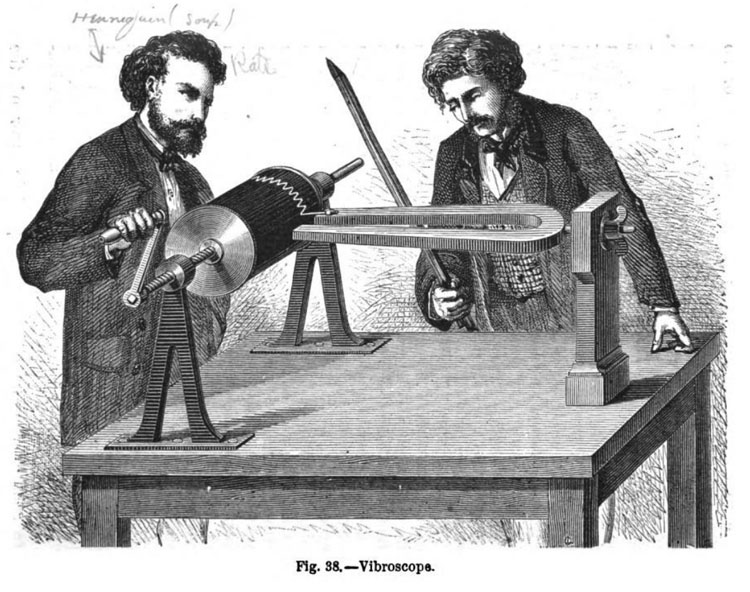 Duhamel's 1843 Vibroscope (Courtesy Sound Beat)
Trumpeting the Revolution
(3) "With morning-glory horn in hand, I take this opportunity to remind all: Do not forget the Phonograph. On December 6th, wish the Phonograph a Happy Birthday. The magic is alive." Doug Boilesen, Black Rock Portraits on the Playa by Douglas Keister ©1990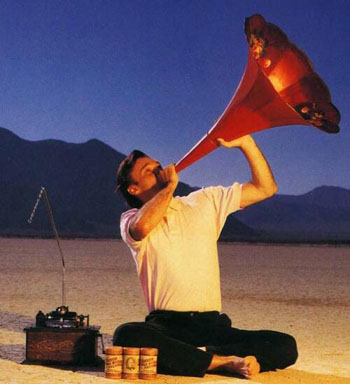 Trumpeting the Revolution!
Evolution of a Revolution
(1) Nickel-in-the-Slot Victor Record B-28211
Discography of American Historical Recordings, s.v. "Victor matrix B-28211. Nickel in the slot / Zez Confrey Orchestra," accessed April 22, 2021, https://adp.library.ucsb.edu/index.php/matrix/detail/800002225/B-28211-Nickel_in_the_slot.
(2) The Type 'G' "Baby Grand in 1894 was the first in the Columbia Phonograph Companies' line "to be produced exclusively for the home entertainment market." The 1895 "Columbia Bijou was the second model designed specifically for the home..." Columbia Phonograph Companion Volume I by Howard Hazelcorn, published by Mulholland Press, Inc., ©1999 Howard Hazelcorn
(3A) Catalogue Musical Phonograms issued by The North American Phonograph Co, First Edition 1890 (with records made at the Edison Laboratory under the supervision of A. Theo. E. Wangemann - Edison Cylinder Records 1889-1912 With an Illustrated History of the Phonograph by Allen Koenigsberg, APM Press, ©1987 Allen Koenigsberg, p. 109
(3B) The Edison Home Phonograph Model A was introduced in 1896. The Edison Cylinder Phonographs 1877-1929 by George L. Frow and Albert F. Sefl, Printed by Flo-Print, ©1978 George L. Frow
The Phonograph Lives!
(3) Listen HERE for a listing of sounds of Earth on Voyager's Golden Record
(4) Photograph from NASA/JPL extracted on 8/29/2019 from UWNews, Greetings from Earth: Documents that Changed the World podcast revisits Voyager's 'Golden Record,' 1977
(5) Photograph from NASA/JPL "Making the Golden Record" extracted on 8/29/2019
(6) - Jet Propulsion Laboratory, California Institute of Technology
The Voyager's phonograph records used a needle and 'grooves' and were not laser discs although images were viewable on the discs. The record used analog technology and the audio was played at 16 2/3 rpm. The overall intent was remarkable - communicate "a story of our world to extraterrestrials."
For more information about this Voyager phonograph record sent to the stars, read Carl Sagan's Murmurs of Earth or visit NASA's Jet Propulsion Laboratory website "What is the Golden Record?"
Friends of the Phonograph Go GREEN
Last year, two scientists presented a theory in quantum mechanics that they called "entangled histories." They argue that the existence of a particle in space is fractured along many alternate timelines, all of which must be considered to understand the full chronology of its life cycle. It is baffling and exhilarating in the way only quantum physics can be, but one idea stood out as particularly resonant. Jordan Cotler, an author of the paper and a graduate student at Stanford University, has said, "Our best description of the past is not a fixed chronology but multiple chronologies that are intertwined with each other." We've long known that this is how human history works — an unimaginable number of small stories, compressed into one big one. But maybe now we finally have the ability to record and capture them all, and history can become something else entirely: not a handful of voices, but a cacophony.
Using the internet and archives of social media will be a way to "generate a more prismatic recollection of history."
"I think of it almost in terms of young children and how they engage in the world. Growing up is becoming familiar with a series of rolling concentric circles. You're kind of circling your space, your home, your family. You're exploring all around. So to your question, becoming a parent was a huge thing. Once you have a child, your sense of time completely changes. You start thinking about a longer stretch of time, where you have to be responsible for another person's life. You have to think differently about responsibilities. If you have a parent who becomes ill and you're there, that's a familial responsibility. A friend is in trouble; you help the friend. These are extensions of that concentric circle. New neighbors move in; you try to welcome them. It's all the connections we make in life. Once you're connected, you feel responsibility. And "connected" means that it's a circular loop. I know you, but you have to know me, too. There's an energy circle that goes back and forth."
"One night in 1975, I was tying up the garbage when my husband called me to come and see something he was watching on TV. "You have to see this!" he called. I couldn't believe there was anything on television that I had to see, but he sounded as if he had found something exciting and wonderful.

There was a tall, dark, and almost handsome man, dressed in a black turtleneck sweater, with a button-down shirt and a checked sports jacket over it. He was standing on a stage, with a small record-player next to him, and when he put the needle on, it played the Mighty Mouse theme song. The man appeared to have no idea what he was doing until the singing began. Then he knew just what he was doing, and suddenly he turned into a baritone star from a nineteen-fifties musical as he started to lip-synch the words. It wasn't funny the way other things are funny. It just made you laugh.

The mysterious man was Andy Kaufman, on Saturday Night Live."

Note: This appearance by Andy Kaufman was on the premiere episode of Saturday Night Life, originally titled NBC Saturday Night, October 11, 1975
Researchers know that of the two primary forms of accessing memory, recognition and recall, the former is a simpler and more reliable process. It is the association of a physical object with something previously encountered or experienced. This could be because tangible memories utilize all five senses, evoking emotional triggers and transporting us back to a precise time, place or moment.
The Belfer archive allows us to feel this sense of history even more vividly, because we can hear what musicians, artists, authors, actors, statesmen, politicians, and other historical figures actually sounded like. This is emotional, visceral communication that goes far beyond the power ofthe printed page." -- Belfer Audio Archive: Our Cultural Heritage in Sound by John Harvith, p. 152 The Courier: Harvith, John, "Belfer Audio Archive: Our Cultural Heritage in Sound" (1995). The Courier. 323. https://surface.syr.edu/libassoc/323
"One of the most memorable things anyone has ever said to me about music came from musicologist James Hepokoski, formerly of Oberlin College, now at the University of Minnesota. What Jim said was both incredibly simple and profound: Music of the past tells us what it felt like to live during the period when it was created. Ibid p. 152
It's

"a series of sketches of the literary lights of the 19th century, most of whom we've never heard of. And it's a really beautiful evocation of a world that was totally as real as ours that has vanished. We don't know these people. It's really, really hard to recreate their mindsets. And of course, they were very passionate about it. And people wrote 30, 40 novels. And so for me, it was kind of a great book just to say, oh yeah, this cultural moment that we're in is sort of a beautiful illusion. It seems real to us. You and I could talk for hours about different cultural references. And in another 100 years, it'll all seem kind of like beautiful nonsense."

-

The Ezra Klein Show

, February 19, 2021 ,

New York Times interview of George Saunders
"Charles Batchelor became one of Edison's closest laboratory assistants and business partners during the 1870s and 1880s." -

Wikipedia
So where are the strong

And who are the trusted?

And where is the harmony?

Sweet harmony
"(What's So Funny 'Bout) Peace, Love, and Understanding" is a 1974 song written by English singer/songwriter Nick Lowe. Initially released by Lowe with his band Brinsley Schwarz on their 1974 album The New Favourites of... Brinsley Schwarz, the song was released as a single and did not chart.

The song was most famously covered by Elvis Costello and the Attractions, who recorded a version of the song that was released as a B-side to Lowe's 1978 solo single "American Squirm". The cover saw great popularity and was later included on the American version of Costello's 1979 album Armed Forces.
By 1863, the government provided free mail service within larger cities but did not serve rural areas. By the 1880s, people, even in cities, had to go to the post office for mail, with each post office generally serving nearly 100 square miles around it.

With well more than half the U.S. population living outside cities, many rural dwellers picked up their mail only once a week and even as late as 1896, only letters, no packages were handled. Parcels were handled by firms such as Wells Fargo, which formed in 1866, becoming American Railway Express in 1918. But even their customers still had to travel to city offices for delivery.

In 1890, the Grange began pushing post offices to extend city service to people who lived in rural settings, two to 12 miles from a post office. The idea was championed by U.S. Postmaster General John Wanamaker, who also owned Wanamaker Department Store. He recommended giving city-style delivery service through towns of less than 10,000 people.

In 1898, the U.S. Post Office announced that "any group of farmers could have delivery merely by sending a petition (with 100 or more signers), along with a description of their community and roads — to their congressman." Each route would be 25 miles and serve at least 100 families. By year's end, about 41,000 pieces of mail were being delivered per route. So overwhelming was the petition response that, by April of 1900, the Post Office had run out of funding for the concept.

In 1902, President Theodore Roosevelt announced that RFD "had become fixed policy," though some senators felt it "would bankrupt the nation." Coincidentally, in 1901-02, the number of post offices in the U.S. reached its peak of 76,045.
(3) 1909 map showing train stations at Hay Springs, Rushville and Gordon, Nebraska Railroads in "The Cornhusker State, " February 7, 2022 by Adam Burns
(4) Was an Edison 2-minute or 2 and 4-minute Combination Machine purchased?
Most of the records that Mari identifies in the story had 2-minute cylinder records that were available prior to December 1908 and could have been purchased by Jules.
The sextette from "Lucia" is the first song played after the Phonograph is unpacked. The Edison Sextette from "Lucia" was released in October 1908 and it would become a popular version and it meets the description of Mari's "Lucia" with its vocals on the record. The problem, however, is that it's a 4-minute record. Edison had released a 2-minute Gold Moulded Record of "Lucia" circa 1902 but that record was performed by the Edison Concert Band (Record No. 88) and there was no sextette or vocals, just the band.
Resolving this "Lucia" record question therefore has two solutions.
First, as previously noted, Jules had spent a significant amount of money in buying foreign records so one of those records (which hasn't yet been identified) could have been a 2-minute version of "Lucia" with vocals.
Second, Jules could have purchased a combination 2 and 4-minute machine and part of the instructions that Mari read on how to operate the machine explained how to play the two and four minute records. She followed the directions and, since she was in charge of running the machine, played the records but didn't go into those operational details in her story, i.e., changing the speed control and switching the stylus.
On that second point, however, Mari is very specific about how she placed the cylinder on the machine and how she had to wind it. There is no description that any record required the changing of the stylus or switching the record speed gear (which you would have to do with a combination 2 and 4-minute machine).
On the other hand, Jules did obtain several hundred "foreign records" at a stiff price and if his Swiss friend had also recommended records that required a four-minute machine then it's highly likely that he did so as it was his character to do whatever he wanted to do. As Jules' wife bitterly reminded him "You did not buy the overshoes for the children. You forgot everything except your stamp collection, your guns, and the phonograph!" (p. 9)
Because the Triumph was a larger and a more expensive machine and its triple-spring required less winding I do not think an Edison Triumph was the model purchased. The Edison Standard and Edison Home models were popular cylinder phonographs in rural Nebraska at this time and were the ones most commonly advertised in newspapers and stores.
(5) "The interloping disc machines had finally arrived in the new Sears catalog..." from "Columbia Thru Sears - Part 3" by Peter Betz, The Talking Machine Review, page 102, June No. 4 1970).
By spring, 1905 in the Sears catalog "both Columbia and Victor had made over a great number of the discs in their catalogs. The new records were better and often had orchestrial accompaniments." (ibid., page 103)
The Montgomery Ward Catalog 68 1900-01 had "an extensive phonograph listing. Edison Phonographs are represented by the "improved" Gem in oak case for $10...The Edison Standard Phonograph was offered for $20...Edison's Home Phonograph was offered for $30. The Edison Concert sold for $75 with floor stand and 24-inch brass horn...Graphophones offered included the type AT in ornate case for $25. The AG Grand sold for $50 and there is no mention of the GG Grand. Polyphones are offered in four types."
"This catalog also contains a drawing of the "latest, improved 1900 model" Berliner's Gramophone." The Talking Machine Review, August No. 5 1970, page 139-140 Ernest C. Allen
(6) In 1906 Pathé Frères, one of the largest manufacturers, quit "the cylinder business altogether and concentrated on disc records." The Edison Disc Phonographs and the Diamond Discs, a history with illustrations by George L. Frow, published ©1982 by George Frow, Flo-Print, Kent, p.6
Disclaimers
(1) "unexamined stereotypes" are harmful. See The End of Bias: A Beginning - The Science and Practice of Overcoming Unconscious Bias by Jessica Nordell, Metropolitan Books/Henry Holt & Company, 2021
Additional Credits/Information
Roof of an apartment building with Victor Talking Machine and records, ca. 1919, "Living on a Skyscraper," ca. 1919 Library of Congress - Photo by Bain News Service, N.Y.C. - LC-USZ62-34614
Phonographia